Pergelaran ajang penghargaan kelas Internasional Grammy Awards untuk dunia musik belum lama ini selesai digelar. Pemenang dari berbagai kategori sudah diumumkan, mulai dari musik country hingga Metal semua mendapatkan porsinya. Ajang Grammy sepertinya memang sudah menjadi tempatnya untuk sebuah pencapaian musisi dalam berkarir dan berkarya. Sayangnya hal tersebut ternoda karena rasa pilih kasih. grammy rock dan metal
Pilih kasih? Bukannya semua genre sudah mendapatkan porsinya?
Yups itu betul, namun penyebaran informasi "on-air" ternyata tidak selaras dengan "off-air". Pada kategori Rock dan Metal, pengumuman dan penyerahan piala pemenang untuk kedua kategori tersebut ternyata tidak disiarkan pada stasiun televisi. Hal yang menyebabkan banyak tanya juga amarah dari penikmat dan pelaku musik. Ada juga yang berpendapat bila kedua genre tersebut memang belum layak menjadi konsumsi TV, jadi wajar saja bila raungan musik Rock dan Metal tersisihkan dari siaran langsung.
Apa jaman sekarang masih berlaku untuk hal tersebut?
Entahlah, yang pasti ada kepentingan yang diprioritaskan oleh stasiun Televisi. Mungkin bila menilik ke negara kita sendiri rasanya hal tersebut terasa wajar, karena musik Rock dan Metal masih dikategorikan hanya untuk segmen tertentu, musik memekakan telinga, musik berisik, musik yang hanya dinikmati segelintir orang dari ratusan juta masyarakat.
Tentu saja seperti yang kita tahu, hal tersebut sangat salah besar.
Menyisihkan musik Rock dan Metal dari siaran Televisi untungnya bukan merupakan masalah besar di jaman sekarang. Media selain televisi sudah hadir dan bisa lebih dinikmati tanpa batasan apa pun, selain koneksi jaringan internet tentunya :). Gak ada internet gimana mau akses? :D.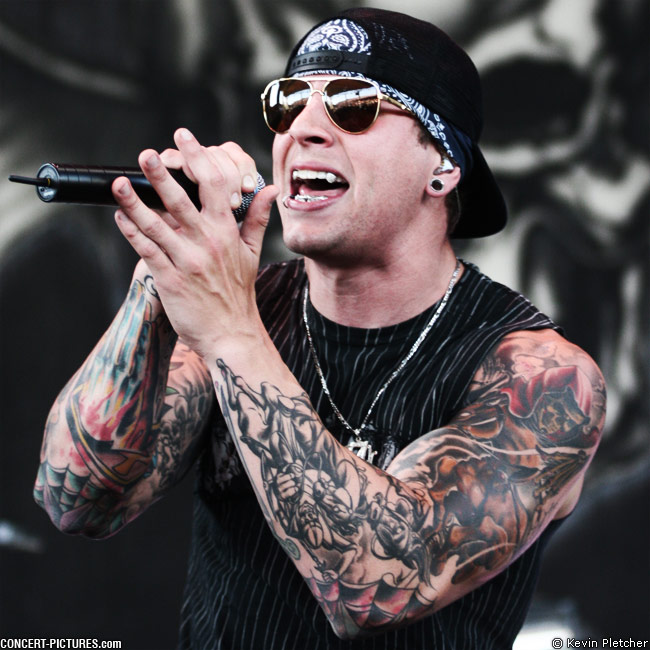 Para Rocker yang sempat merasakan amarah sesaat itu datang salah satunya dari Matt Shadows, frontman dari band Avenged Sevenfold yang memutuskan untuk tidak menghadiri pagelaran tersebut kendati band-nya menjadi nominasi pada kategori best Rock Song. Mungkin bagi Matt bila memang menghargai karya Rock dan Metal, baik dari pihak Grammy dan Televisi harusnya bersinergi bukannya berkompromi.
Amarah Matt tergolong masuk akal. Mungkin seharusnya jauh lebih baik, bila Grammy tetap menayangkan keseluruhan acara meskipun tanpa adanya stasiun televisi. Karena jam sekarang sebuah pagelaran bisa dinikmati melalui siaran langsung via internet. Jadi bila memang Grammy mendukung semua musisi, lakukanlah seperti yang musisi lakukan, tanpa belenggu televisi yang mengunci kreasi dan prestasi musisi itu sendiri.
Nikki Sixx dari band Motley Crue yang sudah pensiun memberikan pendapatnya akan perihal ini
"Tiket konser Rock dan Metal selalu habis terjual di lokasi seperti Theater, Arena, Festival dan Stadion di seluruh dunia. Jadi mengapa kategori Lagu Rock Terbaik tidak masuk siaran televisi oleh pihak Grammy? Saya rasa itu dilakukan akan banyak membantu keseimbangan pagelaran ajang penghargaan."
Rock and metal sell out theaters,arena's,festivals and stadiums around the world .Why isn't the "Best Rock Song" category being televised by the Grammy's? #SupportAllMusic I THINK IT WOULD HELP KEEP A WELL BALANCED AWARD SHOW. —Thoughts?

— Nikki Sixx (@NikkiSixx) January 28, 2018
Musisi berlimpah, pendengarnya di seluruh dunia, "menjual" pun sudah, tapi kenapa rasanya kedua genre ini masih "terasa" disisihkan?
Aaah biar sajalah, yang paling penting kita sebagai penikmat, nikmati saja musik yang disuguhkan. Para musisi lebih merasa dihargai dengan kita yang menikmati musik pada "tempat" yang seharusnya, pada kehadiran kita di jadwal konser mereka dan pada apresiasi kita dengan "memberi nilai" karya mereka. Itulah penghargaan sesungguhnya yang jauh lebih berharga daripada piala.
Inilah para pemenang pagelaran ajang penghargaan Grammy
Album of the year, 24K Magic, Bruno Mars
Record of the year, 24K Magic, Bruno Mars
Song of the year, That's What I Like, Bruno Mars
Country album, From a Room, Vol. 1, Chris Stapleton
New artist, Alessia Cara
Comedy album, The Age of Spin & Deep in the Heart of Texas,Dave Chappelle
Rap album, DAMN., Kendrick Lamar
Rap / sung performance, Loyalty,Kendrick Lamar feat. Rihanna
Pop solo performance, Shape of You, Ed Sheeran
Pop vocal album, "÷,",  Ed Sheeran
Traditional pop vocal album, Tony Bennett Celebrates 90, various artists
Pop duo/group performance, Feel It Still, Portugal
Country song, Broken Halos, Chris Stapleton
Country solo performance, Either Way, Chris Stapleton
Country duo/group performance, Better Man, Little Big Town
Rap song, HUMBLE., Kendrick Lamar
Rap performance (single or track), HUMBLE., Kendrick Lamar
R&B album, 24K Magic, Bruno Mars
Urban contemporary album, Starboy, The Weeknd
R&B song, That's What I Like, Bruno Mars
Traditional R&B performance, Redbone, Childish Gambino
R&B performance, That's What I Like, Bruno Mars
Alternative music album, Sleep Well Beast, The National
Rock album, A Deeper Understanding, The War on Drugs
Rock song, Run,Foo Fighters
Metal performance, Sultan's Curse, Mastodon
Rock performance (single or track), You Want It Darker, Leonard Cohen
American roots song, If We Were Vampires, Jason Isbell And The 400 Unit
American roots performance, Killer Diller Blues, Alabama Shakes
Contemporary Christian album, Chain Breaker, Zach Williams
Gospel album, Let Them Fall in Love, CeCe Winans
Jazz instrumental album, Rebirth, Billy Childs
New age album, Dancing on Water, Peter Kater
Song written for visual media, How Far I'll Go (Moana), Lin-Manuel Miranda
Score soundtrack for visual media, La La Land
Compilation soundtrack for visual media, La La Land
Musical theater album, Dear Evan Hansen
Spoken word album, The Princess Diarist, Carrie Fisher
Latin pop album, El Dorado, Shakira
Music film, The Defiant Ones, various artists
Music video, HUMBLE., Kendrick Lamar
Contemporary instrumental album, Prototype, Jeff Lorber Fusion
Dance / electronic album, 3-D The Catalogue, Kraftwerk
Dance recording, Tonite, LCD Soundsystem
Detail bisa dilihat di website Grammy